Welcome!
Thanks for visiting our web site! Since 1983, Straight Line Services has been helping clients introduce new products to the market, establish brand preference, motivate salesforces, promote their preferred image in the global marketplace, build loyal dealer bases and influence buying decisions at the dealership level.
Our in house digital graphics capacity has made it easy for our clients to anticipate world class results even under extreme time constraints.
We welcome you to our online store and product catalogue with over a million promotional products available here that may be selected by price, category or description. If you don't really know what you're looking for, just pick a price and a category and click on search.
Generating ideas for promotions has never been easier! As you click through the site you may create a simple reminder of the more exciting ideas by adding them to your cart and emailing them to us. It's really simple! We'll contact you shortly thereafter to discuss your needs in depth.
While you're here, don't forget to check out our Featured Products and Showrooms.
This web site has been developed as an idea generation tool for you to synchronize your creativity and needs with our capabilities.
PLEASE CONTACT US DIRECTLY FOR SPECIAL PROMOTIONS AND PRICING.
And thanks again for coming to visit!
Featured Item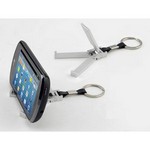 Mobile Phone Stand Keychain
Mobile phone stand keychain opens and folds away with ease. Made of steel, the key chain phone stand has a sturdy feel and durability. 5" L x 3/4" W x 1/4" H

Signature Showrooms